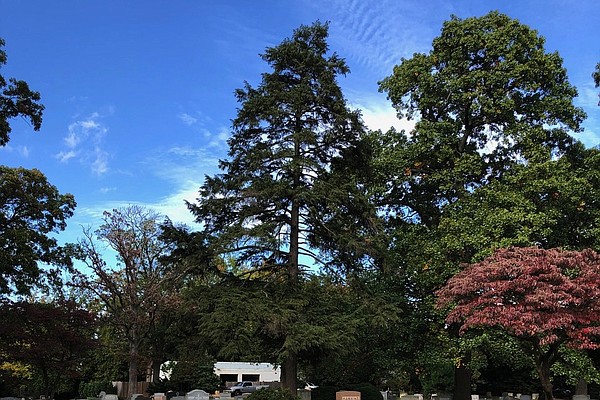 Wednesday, November 11, 2020
When a Tree Steward finishes the training course to become a steward, they are supposed to know how to identify a tree, in any season. That sometimes proves a bit of a challenge, but the group of volunteers Kurt Moser signed up to tag trees in Columbia Gardens on Friday, Oct. 23 was not easily daunted. Asked to tag a Redbud, one volunteer looked around and admitted she'd only ever seen a Redbud in the Spring. They look completely different in the Fall. Another said in a very certain tone when asked to find a Sweet Gum, "I've got this. That's easy." Faced with the stand of trees, she sheepishly admitted she wasn't a hundred percent sure. And then there was the missing Himalayan Deodar.

Fortunately, the group's leader was a tree connoisseur. Kurt Moser, an environmentalist and educator in Arlington, and also a volunteer Tree Steward, knew what to look for, and opened up his "little black book" which was complete with his own sketches and sample leaves, proof that learning how to identify trees is an effort. By the time they had completed the task, they had identified roughly 30 trees, many of them unusually large or beautiful specimens. One of Moser's favorites is the Blackjack Oak in the corner of the cemetery. Another impressive tree is the Lebanon Cedar.
Columbia Gardens is a private cemetery which recently celebrated its 100th anniversary. It has been owned and maintained by the same family since its founding in 1917. It is a peaceful refuge open to Arlington citizens year round. Throughout its history, Columbia Gardens has been dedicated to the planting, preservation and stewardship of trees and woody plants on the property. It has accreditation as an arboretum. To read more about the gardens, and to learn about some of the famous people interred in the cemetery, see: https://www.columbiagardenscemetery.org/
To learn more about the Tree Stewards of Arlington and Alexandria and their next training cycle, see: https://treestewards.org/