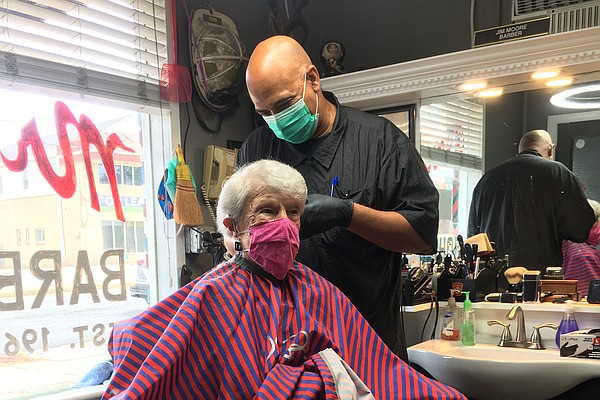 Thursday, September 10, 2020
Jim Moore was finally able to open his barber shop, Moore's Barber Shop, on May 29th, when Virginia gave the green light to hair salons and barber shops. Up until that time Moore had been closed for more than two months, a real hit for a small shop like his. But he didn't want to take chances with his health, his co-worker Clay's health, or any of his clients. He was still working as a volunteer fireman and they followed a strict protocol given the numbers of firefighters who had fallen ill early in the spring.
Moore opened his shop by texting clients, saying he would be open by appointment only. He would ask clients coming in to wear a mask, have their temperature taken on arrival (100.1 was the upper limit), and demonstrate good oxygen levels. Only two clients were allowed in the shop at a time. He and Clay would wear masks, gloves, and thoroughly clean surfaces after each client. Moore's is still operating at low capacity, without the usual gathering of young and old men waiting for their hair cuts and discussing the week's events, but he's working again, "and it feels great," said Moore. To make an appointment, text 301-801-6993 or download theCut and book an appointment online at booktheCut.co/jimmoore.