Monday, November 21, 2022
Evie races across the floor and jumps onto the couch. Eggsy, flicking her tail, chases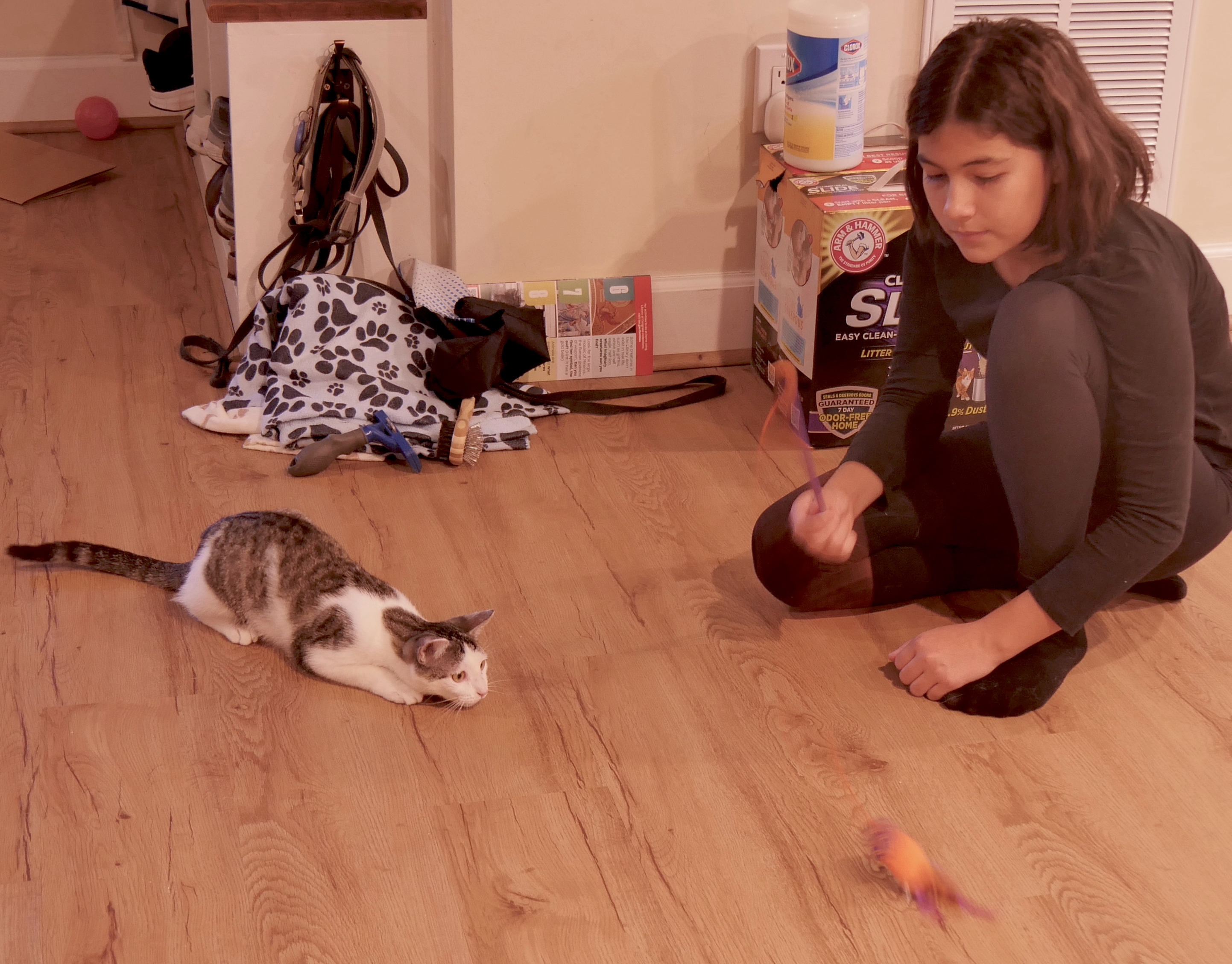 close behind. Thirteen-year-old Laura and eleven-year-old Nati Gradzka are the foster parents for these four-to-five week old kittens. 
Every few weeks they get a new set of kittens that they foster until the kittens can be adopted. They have kittens there most of the time. The girls say in the beginning it was not easy to let go. The girls' mother Ewa says, "There were some tears. We hope the kittens find good families." 
Ewa says it is a fantastic way to teach kids to be responsible. "Laura and Nati feed them, clean the litter box, sleep with the kittens and play with them and vacuum up after them. I don't do anything, I'm just the driver." As if to make the point Eggsy jumps up on the couch and promptly falls asleep on Nati's chest.
The kittens all have different personalities. "Evie likes taco shells," Nati explains. Ewa says, "We have a hard time keeping the kittens off the table. You have to be prepared for it. We have a little sprayer with water. I don't know what else to do. And Eggsy didn't like one cat food. I'm not sure what they fed her in the shelter."
Laura finds when she is practicing table tennis that if she drops a ball, the kittens chase it. "Everything is a toy for them," Ewa says. And when Laura is doing her homework on the computer for the International School, which she attends with her sister, the kitten tries to walk across the keys.
Ewa explains these kittens come through Lucky Dog Animal Rescue. "We get a call when the kittens have arrived. I think these came from North Carolina. We foster them for a week or two or sometimes up to four weeks until they are adopted at a local event." 
She remembers one call when they had signed up for two kittens and Lucky Do brought four "and they were only 5 weeks old." Laura remembers one of her favorites "really cuddly, the smallest one who would fit in the palm of your hand."
They started off five years ago with a dog but Laura says, "I really badly wanted a cat, adorable and fluffy." It's been kittens since then.
These kittens have a good life with their own space where they can roam freely in a sunny basement where they have a couch, toys to chase and their food and litter. Ewa explains,"It is so much better than sitting in a cage, cold with dogs barking all around. Here they get relaxed with an increased chance of getting adopted. It's nice to see how quickly they warm up, even in a week."    
Besides the girls, the kittens have lots of additional company. Laura just bought herself a new little fish—a beta, blue. Their first pet was a hedgehog. "Such a cool pet." But so noisy with the spinning wheel Nati remembers.
They have a guinea pig who is losing its sight but is a good buddy with the dog. Most kittens stay downstairs and don't socialize with the large noisy dog with the big bark upstairs. And in the corner a hermit crab named Hermie and a bearded dragon named Freya. "I told them not more than five pets at a time," Ewa explained.
"We took the kittens last week to an adoption event but they didn't get adopted. There is an adoption event in Falls Church this weekend; maybe they will get lucky this time. We hope they will get good homes."